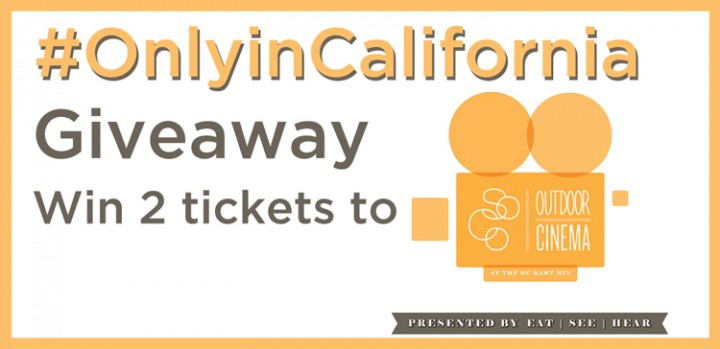 The Event:
The SoCo Collection + The OC Mart Mix are excited to announce that a great event is right around the corner! Through a collaboration among a company called Eat | See | Hear, the SoCo Collection, The OC Mart Mix, and many of our vendors, we've created an outdoor entertainment experience with music, food, art, and a viewing of the award-winning movie "The Artist" called the SoCo Outdoor Cinema.
The Event will take place Aug 10th and will begin @ 5:30. Tickets will be sold for $5 online and $7 at the door.
Click here to purchase tickets
How to Enter the Giveaway:
To celebrate this and help spread the word of the event anyone that tweets a picture doing something that in their opinion can only be done in California, mentions @theocmartmix, and the hashtag #onlyincalifornia they will be entered in the drawing. We'll give the tickets away every Friday at noon leading up to the event, and announce it on Facebook and Twitter.
The Details
Tweet a photo doing something that you can only do/see/taste/hear in California; mention @theocmartmix, use hashtag #onlyincalifornia
Begins Monday, July 23, ends August 10
A different winner will be announced @ noon on July 27, August 3, and August 10, giving us 3 winners total
Winners receive 2 FREE TICKETS to the SoCo Outdoor Cinema event on August 10!
Example:
Sunsets like this are #onlyincalifornia @theocmartmix

Good luck!